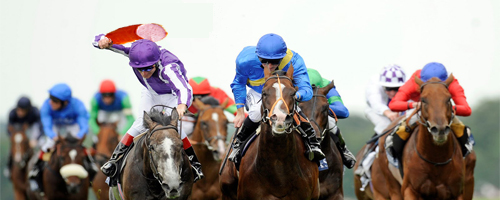 OUR INAUGURAL ANNUAL RACE DAY has been and gone…  Full Bore $3.20 was triumphant in winning the inaugural South Australian Bung Fritz Club Rating 0-68 Handicap ( Bung Fritz Cup) of 1511 metres.
A good day was had by all and special thanks to the Bung Masters for organising this major event.

POSITIVES FROM THE DAY:

A very good turnout by members and friends.  Most in their Hawaiian shirt.
Great food, hospitality and Jacob's Creek wine.
A good field of racing.
Our special guest, Johnny Letts, who did a sterling job with our Punter's Club – and he was award our Membership #1.
Wet weather tent.
NEGATIVES FROM THE DAY:

Wet weather.
Members and the Punter's Club – see below.
A NOTE TO MEMBER'S FROM DENIS "FATHER' O'MALLEY
Our group was never about money. It originated for selected people to enjoy good food and good company.
To say I was disappointed with the furore over our poorly run "PUNTERS' CLUB " would be an understatement.
For a piddley $10 (which would have returned the unknown 54 contributors $32.41 each ) it defies the reason our group
was formed. We had over 80 people at times in our marquee. Who contributed? Who didn't? Who knows? Who cares?
I have decided that after expenses (a profit and loss sheet will be available) the balance will be donated to the "Henk van Oosterom" fundraiser being held at the Kingsford Hotel, Sat.20th October.
I believe this is good for Gawler (of which we are all part) and the South Australian Bungfritz Appreciation Society.
As this may not please everyone, I am prepared to reimburse anyone who wishes, with their $10 plus the $50 for the day, upon the return of their badge.
LIFE IS TOO SHORT TO BE PETTY.

_________________________________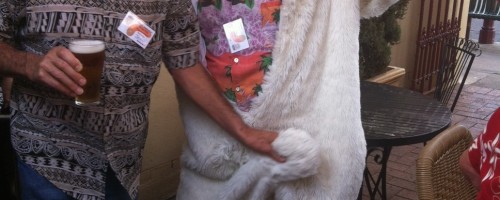 Yum Yum
Held at the Kingsford Hotel in Gawler, another good quantity of members enjoyed bung fritz 'sausage rolls' before heading into the chambers for lunch and ceremony.   4 new members were unanimously voted in and given that is was on the eve of Easter, Easter bunny made a appearance (however he did get excited and confused at the same time – see image!).  He was last seen on Murray Street directing traffic!.
Thanks to Taylors Wines for their wine contribution for the lunch (2 bottles next time per table because like Bung Fritz, it is yummy!)
---